Oldenburg Stallion
Dark Bay
16.3 H
---
Touchstone acquired the elite stallion Beach Boy from the Flyinge National Stud in Sweden. Born in 1983 in Holland, Beach Boy is by the internationally famous Selle Francais, Zeus (Nurzeus) whose offspring have earned more than 3.5 million DM and out of the Dutch Warmblood mare Sefane by the equally famous Lucky Boy XX. His impressive jumping pedigree has been confirmed by his performance and his breeding results both in Germany and Sweden.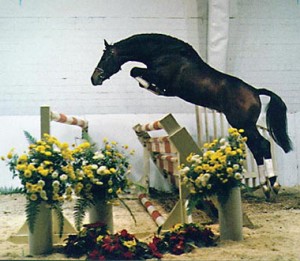 Oldenburg licensed and tested in 1986 in Medingen Germany, Beach Boy placed 6 out of 52 stallions with 127.01 index, 5th in jumping with 127.91 and 15th in dressage with 113.20. In Germany he has six approved sons and 122 competition horses of which 16 are in upper-level jumping and one in upper-level dressage. Offspring earnings in Germany to date are over 200,000DM. Beyond Germany he has internationally ranked competitors in jumping and three-day eventing such as Beach Game, Beach Star, Major Tom and Rabbisch. Since moving to Sweden he has claimed a top echelon placing. He is the only stallion in Sweden to have an equally high BLUP index of 141 for both jumping and gaits, which added to an index for conformation of 128 gives him a total BLUP index of 137. Of 117 offspring in competition in Sweden, 25 are already in the medium to upper-level sport and he has at least one approved Swedish-born son, Billy Boy.
In terms of his suitability for Canada and North America, Beach Boy was a very refined individual with conformation scores of 8s and 9s. Standing 170 cm (16.3h) he was a model hunter with great gaits and spectacular jumping technique. His breeding was limited to fresh semen and since his semen did not transport or freeze his remaining offspring are in limited supply. However Touchstone has retained a number of excellent Beach Boy daughters to carry his legacy into the future.
Beach Boy's Pedigree
Nurzeus
Selle Francais
Arlequin x
Massando x
Nuit Blue x
Uriellle
Selle Francais
Matador (trak)
Donawind
Maritza
Evelyn x
Sefane
Dutch Warmblood
Lucky Boy xx
Compromise xx
Neaco xx
Idealist xx
Sejane xx
Ksarinor xx
Jeanne Seymour xx
Ilexa
Dutch Warmblood
Ulex
Odin van Wittenstein
Pastorale
Desir