Oldenburg Stallion
Dark Brown
16.3 H
---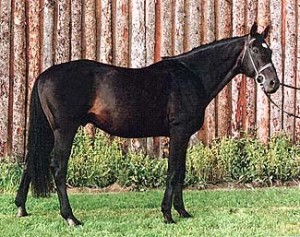 Performance tested: 1983 Adelheidsdorf; Scored 109.67, 18th out of 54 stallions.
Approved by: Canadian Warmblood Horse Breeders Association Verband der Zuchter des Oldenburger Pferdes e.V.
Continuing its planned breeding program, Touchstone Farm imported this outstanding Oldenburg Stallion in May of 1993. Bajazzo was selected on the strength of his pedigree to meet the requirements for a tall, athletic horse with dryness of bone and good trainability. The combination of his sire Barsoi, contributing the refinement, a tremendous gallop and length of stride, and his dam, Grandella, from the famous Hanoverian line of Grande, contributing dressage and jumping talent, proved to be perfect for the next generation of young performance prospects.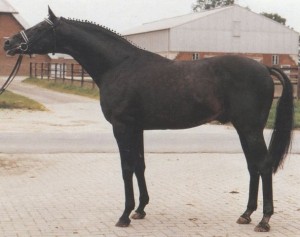 Performance
Bajazzo successfully completed the Stallion Test in 1983, receiving his highest marks for character, trainability, jumping, trot and especially walk. Shortly after he was sold through the prestigious PSI SALE to an amateur owner under whom he competed successfully in all three disciplines, three-day event, jumping and dressage.
Offspring
Bajazzo was used very sparingly as a sire in Germany, due to his previous owners' competitive activities. In spite of this he had one son, Bellini, who followed in his footsteps to the PSI SALE, Nov. 29, 1992, selling as a top dressage prospect. His offspring in Canada are very elegant and refined and show exceptional athletic ability. Among his many Canadian-born foals is the  Canadian Olympic three-day event horses Buenos Aries, that was top placed team horse at the 2008 Olympics in Hong Kong under Sandra Donnelly. He is also the sire of the approved Canadian Warmblood stallion Beau Soleil as well as numerous successful jumpers such as Southwind 5-year-old Canadian Young Horse Champion.
His sire Barsoi xx produced many top competition and sale horses for the Hanoverian and Oldenburg registries. His Hanoverian great grandsire, the legendary Grande has produced his own well-known line of jumping and dressage horses which include the famous Stallions Grandeur and Grannus.
Bajazzo's Pedigree
Barsoi xx
33 04528 71
 Arjon xx
 Janitor xx
 Pharis xx
 Orlamonde xx
 Astral II xx
 Watl Street xx
 

Stargrass xx

 Bartschia xx
 Nardus xx
 Magnat xx
 Norne xx
 

Ballota xx

 Ticino xx
 Blaubeere xx
Grandella
Oldenburg H33 00668 72
 Grandios
 Grande
 Graf
 St.Pr. Duellfest
 Fanny H
 Friesenkonig
 Jenni
 Elfoba II
 Pr.H. Caruso
 Pr.H. Chronist
 St.Pr. Liebe