Hanoverian Stallion
1964 – 1988
Chestnut
16.2 H
---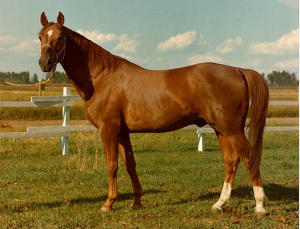 Touchstone has built four generations of warmblood mares through selective line breeding with Hanoverian, Oldenburg and Dutch stallions. Concentrating on the "A" line the program has used this bloodline every second generation.
Touchstone's foundation sire was Abrupt a direct son of the line founding stallion Abglanz (view pedigree), perhaps the most influential stallion of modern times in the Hanoverian breed.
Abrupt spent his entire breeding career in Canada, from 1967 to 1988, producing excellent performance horses. His successes include six open jumpers, one CET three-day event horse and several competitive dressage and hunter horses. Touchstone's mare herd is based on this legacy.
---
Abrupt's Pedigree
Abglanz
1943
Trakehner
Termit
1933
Trakehner
Hyperion
1926
Trakehner
Dampfross
Hypothese
Technik
1922
Trakehner
Tempelhueter
Tageskoenigin
Abendluft
1933
Trakehner
Poseidon
1925
Trakehner
Pirat
Polanka
Abfahrt
1923
Trakehner
Pirol
Appam
Adlerruhe Hanoverian
1957
Anfechter
1935
Hanoverian
Almjaeger I
1930
Hanoverian
Alpenflug II
Goldau
Farbe
1930
Hanoverian
Feiner Kerl
Abibira
Almenflut
1949
Hanoverian
Almhugel II
1945
Hanoverian
Almfreund I
Feuerbuchse
Altheit
1941
Hanoverian
 Altlobitz
 Feinheit